Which bicycle phone holder will be the best? See the ranking
2023-05-18
Using bicycle navigation, monitoring training, listening to music, following the map... The phone can be a very useful gadget while cycling. A good bicycle holder will ensure the safety and comfort of your smartphone. But which bicycle phone holder will be the best? See our ranking of bicycle holders!
In this article you will learn:
what are the types of handles available on the market

why not only the phone model counts when choosing a holder

what factors should be considered when choosing a bicycle holder
Metal phone holder mounted on the handlebars of a mountain bike - Wozinsky WBHBK3
Types of phone holders
There are many different types of bicycle phone holders on the market, with different features and functionalities. Here are the common types of bike mounts you might want to consider.
Handlebar holder
The vast majority of handles have a built-in mounting method. Mounting directly on the handlebar allows convenient access to the phone while driving. Handlebar mounts often have adjustable clamps to hold the phone in place and a swivel feature to adjust the angle of the screen.
Bicycle mirror holder
Some phone holders are designed to be mounted on a mirror. This allows you to place your phone in direct line of sight, for example when using navigation apps. Mirror holders are especially popular among urban cyclists and - note - motorcyclists.
The holder Joyroom JR-ZS288-m is attached to the bicycle or motorcycle mirror
Frame holder
This type of bicycle holders are mounted on the bicycle frame, usually in the area of the upper or lower triangle. They allow you to place your smartphone in a convenient place without interfering with steering wheel controls. Frame mounts are often more versatile and can fit a variety of phone sizes. An interesting version of bicycle frame holders are phone pouches with a "window", which, in addition to viewing the phone screen, offer storage space.
Universal bicycle holder - is there one that will fit all phone models?
You already know which bicycle holders you can choose from. However, before buying a holder for yourself, be sure to check whether it is compatible with your phone.
Holder manufacturers such as Wozinsky, Baseus or Joyroom only provide information on the sizes of phones that can be attached to them. The vast majority inform about the dimensions of the diagonals in inches, others the width and height of the phone in centimeters. There are no handles designed for specific phone models, as is the case with a phone case.
On the market you will find the most bicycle holders for smartphones with a diagonal of 4.7-7 inches. The size of the jaws means that in this type of bicycle holders you can mount e.g. iPhone 14 (also Pro and Pro Max), iPhone 13 (also mini) or iPhone 12. But of course, this is not the end of the list. These are holders that allow you to mount the Samsung S23, S23+, S23 Ultra, A54 or A34 phone, Xiaomi Redmi Note 12, 12 Pro or 12 Pro+ and Realme 10, 10 Pro or Realme 9.
Bicycle holder for iPhone Wozinsky WBHBK7
Make sure the mount fits your bike's handlebar size. Some mounts may only be designed for certain types of bicycles or a certain diameter of the handlebar. However, you don't have to worry ahead of time. A large part of the handles has universal fastening - with a clip or spacers.
What to look for when choosing a smartphone holder? Tips
Remember - really the handle is unequal to the handle! If you care about choosing a professional bicycle holder, bet on specific functionalities. After all, different handle models have very different capabilities.
Stable and safe handle models
The primary purpose of the bike phone holder is to keep your smartphone in a stable position. This is the only way to make sure that the device will not accidentally fall out while driving. Therefore, choose a model that offers a secure and solid phone mount.
Pay attention to the handle itself, and more specifically the jaws, which have adjustable clamps or rubber elements. The silicone grip will make you not afraid of vibrations or uneven terrain.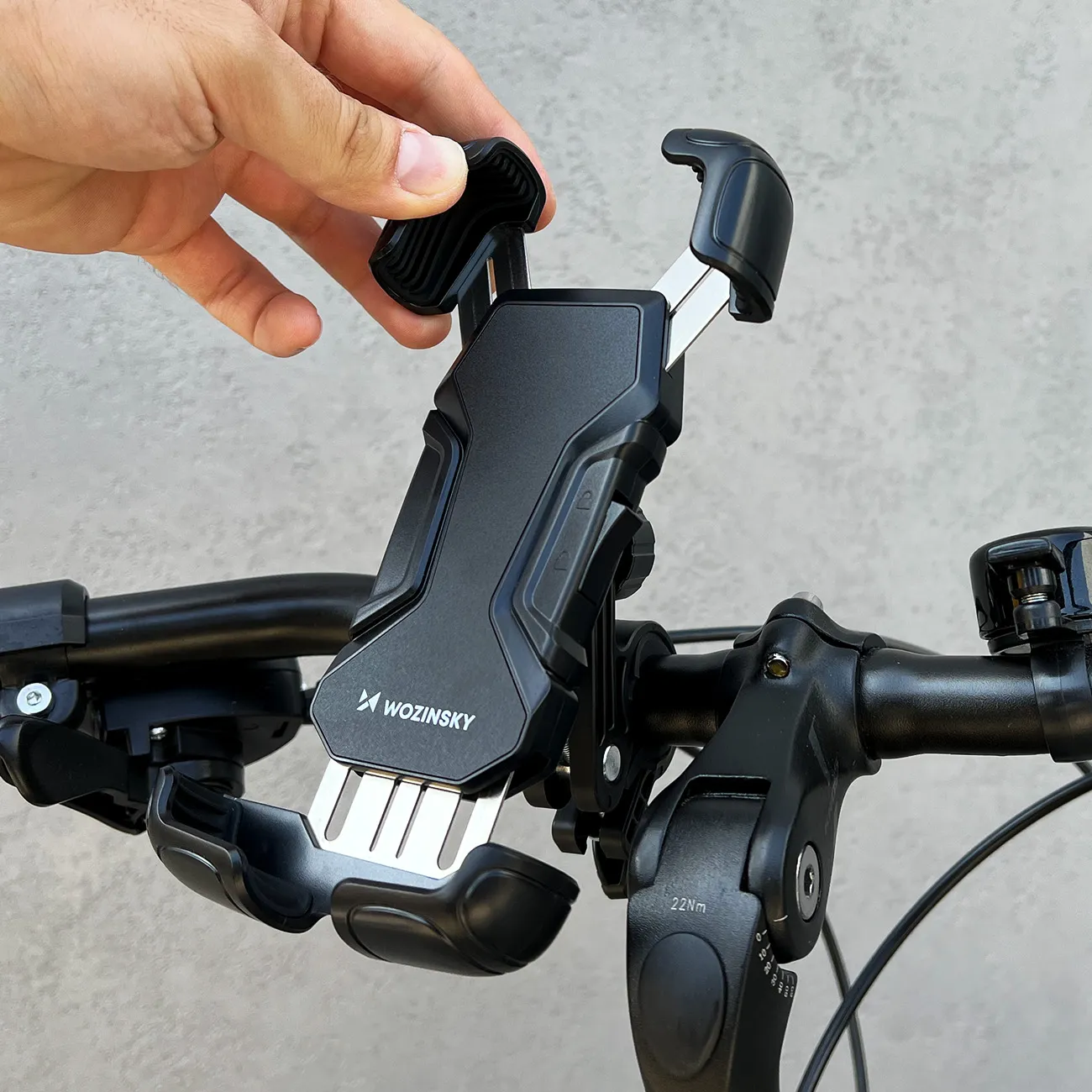 Stable phone bike holder Wozinsky WBHBK6
Good quality handle with the option of adjustment and rotation
A useful function of the bicycle phone holder is the ability to adjust the angle of inclination and rotate the screen. Thanks to this, you can adjust the setting of the phone to your preferences, providing convenient access to the screen. In addition, screen rotation allows for easier use of navigation functions and applications, without having to remove the phone from the holder.
Waterproof models that protect your phone
Do you like cycling regardless of the weather? So you know what weather conditions you may encounter: rain, snow or drizzle. Therefore, with a variety of holders to choose from, consider whether you need waterproof protection for your phone.
At Hurtel.com you will find models with waterproof cases that effectively protect the phone from rain and moisture. In addition to protecting the screen, phone pouches offer storage space.
Ranking of bicycle holders
Do you want to know which model to choose? We have prepared a ranking of bicycle holders. See which models from the category bicycle holders are absolute bestsellers!
| | |
| --- | --- |
| Place #1 | |
| Place #2 | |
| Place #3 | |
| Place #4 | |
| Place #5 | |