What to bring on a bike trip? 5 things every cyclist must have
2023-05-11
Bicycle trips are a great opportunity to combine sport with pleasure. During such a trip, however, it is worth remembering about the appropriate equipment that will allow you to move safely and comfortably on the trails. So what should you take on a bike trip? Here are 5 things every cyclist must have on a trip.
Is your first bicycle trip ahead of you? Or maybe you like to enjoy longer cycling trips, but need advice on what to take with you? It is worth being well prepared for each, both the shorter and the longer, bicycle trip.
It is best to start with the initial planning of a bicycle trip. Think about whether you want to go on a city or forest route, paved or rocky roads? Will you be using navigation and a camera? Are you planning to have a picnic on your bike trip and want to enjoy a cold drink for a long time? Your cycling gear needs to be ready for any adventure!
What to pack for a bike trip? Bike bags and panniers to start
Bicycle bags can be considered one of the most important pieces of equipment that every cyclist should have. A pannier is not only a practical accessory, but also a perfect solution for carrying basic things while riding. After all, on any cycling trip, you need to have the right amount of food and drinks with you. That is why it is worth choosing bicycle panniers that will fit all the necessary things.
Wozinsky WBB24YE 25L waterproof bike carrier bag
Comfortable bicycle panniers come in many types: for the handlebar, for the frame and under the frame, for the trunk and under the saddle. It is important to choose a model that will be comfortable and easy to carry. Each of these types of bags has its own characteristics, which allows you to adapt them to individual needs and preferences.
Still not sure which bike panniers to choose? A great, because multifunctional solution will be a pannier backpack. It's a larger, high-capacity bag that fits on the rear rack, but you can also put it on your back. It will be perfect for further cycling trips when you need to carry more things.
What to bring on a bike trip? Phone holders
Another useful thing on a bike trip are bike phone holders. They not only facilitate the use of the smartphone while driving, but also allow you to safely carry it, protecting it from accidental falls. They allow free use of navigation, as well as quick access to the camera.
Phone holders come in various shapes and sizes. The most important function of the holders is to stabilize the phone while driving, thanks to which it does not move during vibrations or uneven terrain - regardless of where the bicycle trip route leads. It is worth investing in a phone holder that will be easy to use. There are also waterproof versions (like Wozinsky WBHBK7) that allow you to use the phone even when driving in the rain. In addition, it is worth paying attention to the quality of the handle so that it is durable and resistant to damage.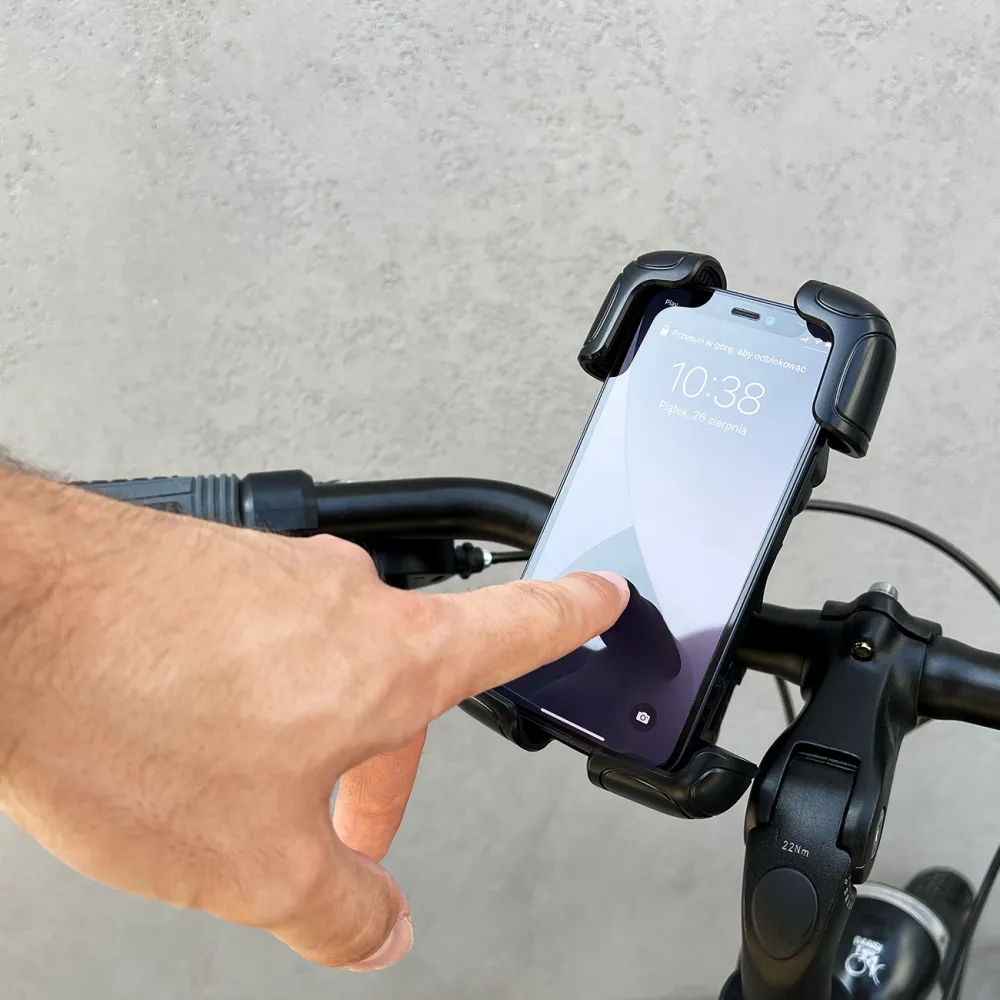 A strong phone holder for the handlebars of the Wozinsky WBHBK6 bicycle
Bicycle trip - a pump in the obligatory set
A bicycle pump is an absolute must-have for every cyclist who goes on a trip. In the event of a tire puncture, it will allow for quick and effective repair. So it will be useful for every bicycle trip. The more that it takes up little space (it will easily fit into bicycle backpacks). Therefore, if you are getting ready for longer cycling routes, it is worth having it with you.
There are different types of push-ups. The most popular models are hand, foot and electric pumps. Hand pumps are handy, but a foot pump will be easier to use. Allows faster and easier pumping. Such a model is the Wozinsky WUP-01 pump. Pay attention to its additional features, such as a built-in pressure gauge that allows you to precisely determine the tire pressure. Good quality ensures that you can use it for many years.
Backup tools for a bike trip
It is worth remembering that various types of faults may occur during a bicycle trip. That's why it's so important to have the right tools or even spare parts with you. Basic tool kits should include a set of bicycle wrenches (flat, Allen, chain repair) and a screwdriver. Thanks to this, you can make repairs quickly and efficiently if necessary.
Do you want the bike trip to be successful, but you don't like taking the whole set of tools? Bet on the Wozinsky multitool. This is a minimalistic and compact set of 11 basic bicycle keys. It is extremely light and easy to store. Even all-day bike trips will not be scary for you!
Wozinsky WBB35BK thermal water bottle or bottle bag
Thermal water bottle bag - useful on every bike trip
The last thing worth taking with you on a bike trip is a thermal water bottle bag - such as the Wozinsky WBB29BK. Thanks to it, your drink will maintain the right temperature for a longer time. The thermal water bottle bag is easy to assemble and will allow us to have our favorite drink always at hand. It is worth choosing a model that will match our water bottle and that will be easy to clean.
Make sure you have the right equipment before planning a cycling trip - and enjoy an active outdoor holiday! Go to the "Bike Accessories" category at Hurtel.com and choose products that meet your needs.