GoPro camera accessories. You will bring the best movies from this vacation!
2022-06-02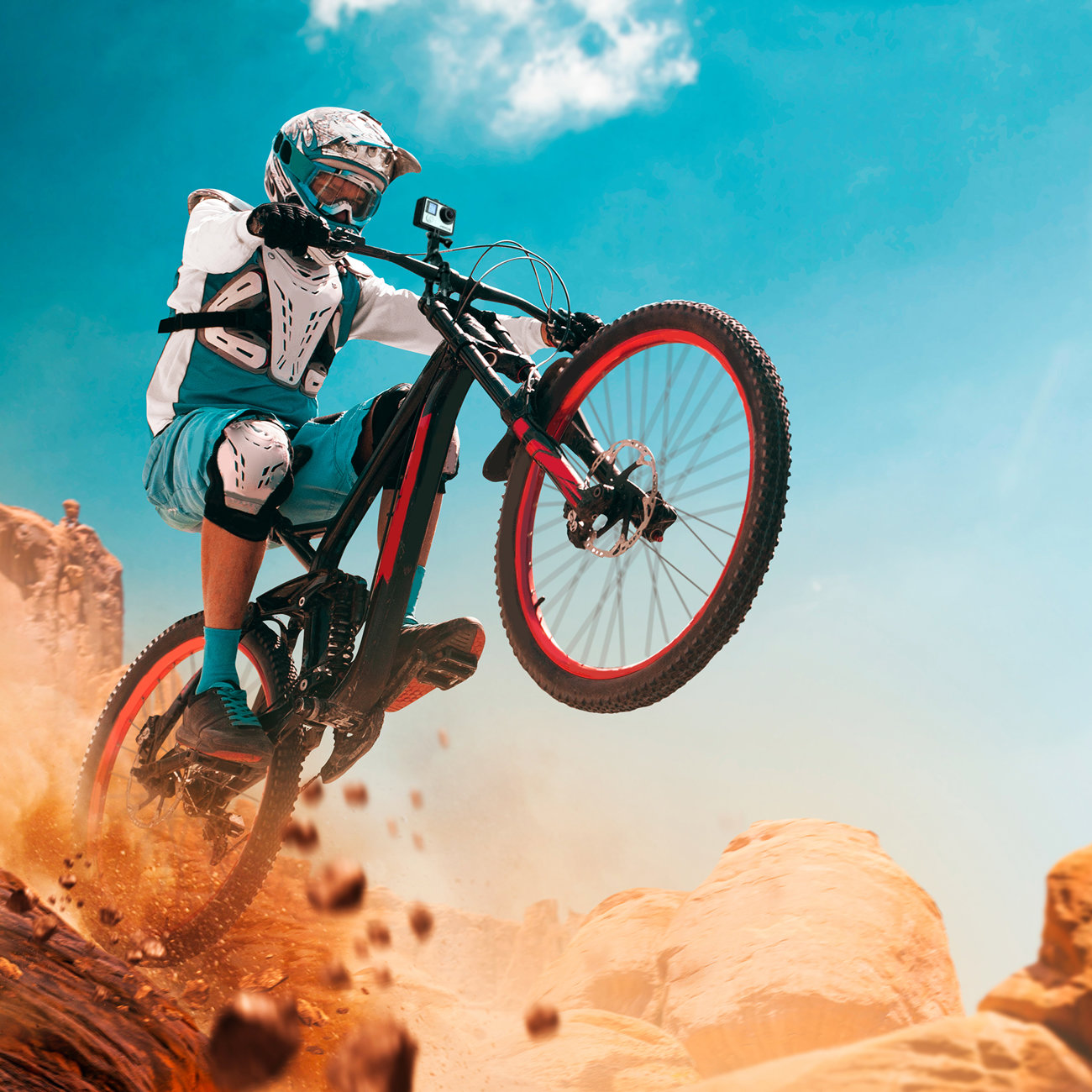 Comfortable and solid sports cameras have hit travel suitcases by storm. And it's no wonder that GoPro accessories are also very popular. A lover of filming and photography (extreme and classic), take a look to see what should be in your inventory.
What accessories for sports cameras are on the market?

Before we move on to what accessories for sports cameras you can currently choose, let's just mention what such equipment is and how it differs from typical cameras. Although it is also used primarily to capture moments, all the similarities end there. Let's move on. Or maybe let's jump? ... because it is the passion for extreme performance that gives rise to other possibilities offered by a sports camera. There are tons of spine-chilling videos of climbing, jumping into the water and extreme bike rides online - all shot from a first person perspective. And no, it doesn't mean that our cyclist had the camera in his hands all the time.
All because of the GoPro camera, which stands out above all:
• Can be attached to the chest, helmet, bike, etc.
• Additional reinforcement of the housing to prevent falls.
• Low weight and small dimensions, thanks to which the device does not interfere with freedom of movement.
• A large number of frames per second and a gyroscope, so you can capture smooth movement, for example during. fast cycling
• Possibility to expand the basic set with accessories.
Where to buy accessories for sports cameras?

Currently, we have a dozen or so models of the flagship camera at our disposal. All of them are resistant to mechanical damage, dust and water. However, if you plan to record underwater for a long time, or attach it conveniently to a motorcycle helmet, choose additional elements. Wondering where to buy GoPro accessories, such as a sports camera mount? The latest offers for extreme sports enthusiasts can be found here - for more details visit this category - accessories for sports cameras .
Interesting accessories for GoPro - what is worth choosing?
In the Hurtel store, you can easily find interesting GoPro accessories . You can choose between individual elements and full sets available in handy suitcases. But what is worth paying attention to in particular?
1. Camera mounting harness - enables mounting at the height of the chest or back. The device is stabilized in one place, it does not move. Perfect for people who choose walks, runs, or… parachuting.
2. Helmet / head holder - comes in a set with stickers for attaching connectors on a rounded surface or it is a headband resembling a head lamp. A must-have for an extreme cyclist, among other things.
3. Displacement handle - yellow water buoy. GoPro sports cameras, although waterproof, do not have their own engine to prevent sinking. Use the conspicuous buoyancy grip to keep an eye on them at all times.
4. Wrist or arm holder - thanks to it you will carry the camera exactly as you wish.
5. Windshield suction cup holder - which makes the sports camera a driver support. It will capture every moment on the road, becoming a valuable piece of evidence, for example in the event of a car bump. It will hold a classic smartphone as well.
6. Tripod - it will come in handy, if you decide to take static shots from one position.
7. Monopod / Selfie Stick / Gimbal for GoPro - with it you can take a perfect selfie, without the support of other people. Works like a classic photo stick.
8. Memory cards - thanks to them you will capture even more extreme moments.