Car seat organizer - how to choose? See our tips
2023-05-02
Do you drive a car to work, shopping, holidays? Good organization and keeping the car in order will make every trip more pleasant. For this purpose, it is worth using a car seat organizer. See what to look for when choosing it.
The car seat organizer is a useful gadget that allows you to keep your car tidy. It allows you to store various items: from bottles and cups with drinks, through books, to phones and laptops. Thanks to the organizer, your belongings will be easily accessible while driving. And most importantly - always within reach. There are many different models of car seat organizers, so before buying, pay attention to a few important issues.
Car seat organizer - big or small?
The first thing to consider is the size of the organizer. It should have the right dimensions to fit the size of the car seat. So before you start looking for this car gadget, measure your seat: the width and height of the seat and the distance between the seats. Incorrect size may cause the organizer to be unstable and start to move sideways. An organizer that is too small may not hold all the necessary items, while an organizer that is too large may interfere while driving.
Car seat organizer with pockets
The size of the organizer is also related to its capacity. Choose one that is roomy enough to accommodate all the necessary items. So what are you going to use it for? Is it to serve only as a place for documents and mobile devices? Or maybe you are planning a car trip with children and you want the little ones to have a fold-out table in front of them? All these elements are of great importance. An organizer that is too large and heavy may interfere with setting the chair in a comfortable position or disturb passengers. On the other hand, an organizer that is too small may simply not offer enough space. This dilemma leads us to the next question, which is...
Briefly about capacity. Car seat organizer with a table or pockets?
An equally important aspect is the number of pockets in the organizer. The more pockets, the more space to store your things. It is worth choosing a model with pockets of different sizes to fit a variety of items. A properly matched shape of the organizer is crucial to ensure proper functionality and safety while driving.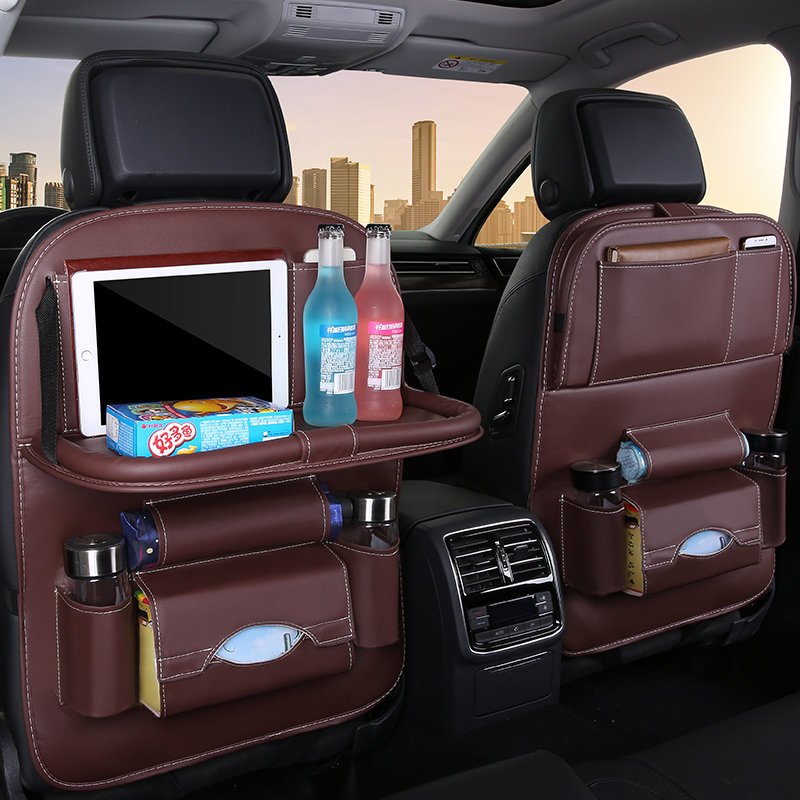 Organizer for a car seat with a table
An interesting solution for car owners is an organizer for a car seat with a table. Thanks to the fact that the table is foldable, the passenger in the back seat can freely eat, work or watch a movie. This is a particularly useful option for people who often travel with children. Thanks to the table, children can freely draw, color or play while driving. In addition, an organizer for a car seat with a table can be very useful for people who work remotely or often eat in the car.
What material is the car seat organizer made of?
Another important aspect is the material the organizer is made of. Organizers can get dirty, e.g. from children's shoes or dog's paws. Therefore, the material from which they are made must allow quick and effective cleaning. Another issue is abrasion resistance. Only such material will meet the requirements of everyday use.
Car seat organizer with pockets
Manufacturers of car organizers most often reach for eco-leather or polyester. They are durable and easy to clean materials that do not absorb water and look good. This is also an important aspect! The material from which the car seat organizer was made should be aesthetic and fit well to the interior of the car.
The organizer and the method of its assembly
The last issue is the method of mounting the organizer to the car seat. This is a very important aspect for your safety and comfort. It is worth choosing organizers that ensure easy and safe assembly - e.g. with straps or hooks. Thanks to them, if necessary, you can quickly and conveniently move the organizer from one car to another or disassemble it. It is also an extremely universal solution that will fit different car models and different types of seats.
Car seat organizer with pockets
Psst! Or maybe you prefer to hide the most necessary things in the trunk? See what trunk organizers you can find at Hurtel.com. Go to the "Car organizers" category and choose the perfect model for yourself.